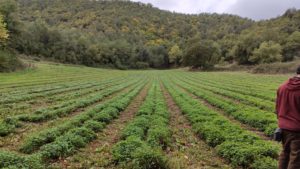 The first directory of producers of medicinal and aromatic plants in Catalonia has been created
According to the Catalan Forestry Observatory, a total of 454 ha of medicinal and aromatic plants were cultivated in 2019, mainly of parsley as a fresh herb and of various herbaceous aromatic species, basically destined for obtaining dry herb.
In order to highlight this sector, the Group of Medicinal and Aromatic Plants of the Forest Science and Technology Center of Catalonia, with the financing of the Department of Agriculture, Livestock, Fisheries and Foods of the Government of Catalonia, has prepared a production database present of aromatic and medicinal plants in Catalonia, crossing own and public data, and a survey of the identified producers.
To date, information has been collected from 45 entrepreneurs and companies, located mainly in the province of Lleida (40%), followed by Tarragona (22%), Barcelona (20%) and Girona (18%). The main production is outdoor cultivation (87%), although there is also a considerable amount of wild harvesting (36%), and a large part produce end products (58%).
All of these producers have an area of ​​63 ha of cultivation and 40 ha of wild collection. The main cultivated species are thyme (Thymus vulgaris), sage (Salvia officinalis), oregano (Origanum vulgare) and rosemary (Rosmarinus officinalis), while those that collect the most are thyme, rosemary, elderberry (Sambucus nigra). and St. John's wort (Hypericum perforatum).
38 of the companies surveyed wanted to be part of the directory of producers of medicinal and aromatic plants in Catalonia (http://directori-pam.ctfc.cat/), which contains detailed data on their economic activity, as well as on the species grown or harvested wild and the final products made.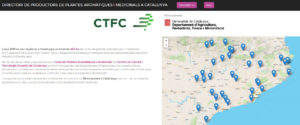 This public directory allows combined searches to:
Company name
Shire
Type of production (protected crop, outdoor cultivation, garden, wild harvesting, demonstrative orchard)
Production techniques (biodynamic, ecological, integrated, conventional, permaculture, hydroponic)
Available equipment (horticultural washer, dryer, distiller, extractor, dry grass processing machinery, workshop, packing machine)
Economic activity
Species produced
Type of raw material obtained (extract, dried grass, fresh grass, essential oil, container plant, seedling)
Finished products
And it returns a list of companies that fulfill the selection made.
For each company you can consult information on:
Contact details of the company
Type of production
Records
Species grown or collected, and raw material obtained from each of them
Activity performed
Finished products
The database is open so new production companies can be added to the directory.
If you wish to leave the directory, please contact: eva.more@ctfc.cat, tel. 973481752.